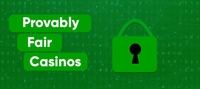 With crypto currencies and blockchain technology a term provably fair casino has become a phenomenon. Take a closer look and see how you can benefit from this new possibility in your gaming!
Since the beginning of human gamble activities there has always been a doubt involved. Whether the instruments such as dice, cards or roulette wheel have been rigged and if the participants are scammed. Thanks to this late provably fair casinos buzz coming from the world of cryptos and esports, now also gamblers have the ability to better guard their rights and enjoy absolutely transparent gaming.
This is the list of best provably fair online casinos. We have picked here the top of the pack including some outstanding gambling brands that offer the highest quality service but also a possibility to run provably fair algorithm checks. We can highly recommend any casino on this list as they all are among the best in this category.
If you want to know more and get the facts straight before you make your decision, just click on the casino's name and you'll be redirected to our full review. There you can find detailed information regarding any current promotions and welcome offers, game selection details, customer service working hours and much more.
Top Provably Fair Casinos
What is a Provably Fair Casino?
Provably fair casinos are online gambling sites that offer their players a possibility to check the algorithm from the random number generator and see for themselves that the results of a game are not tampered. Most of the casinos do not offer an access to their database but especially sites offering crypto currency gaming have started to increasingly do so.
Sometimes you might have doubts and question the integrity and fairness of online casino operators but a provably fair casino is a total game changer. This openness does not only limit to slots or other casino games but can be used in various contexts. Tournaments, prize raffles, treasure hunts and any such competition could also apply this idea of provably fair results.
How the Provably Fair Casino System Works?
To better understand this whole process, we should start with the basic foundations of online video games. Every time you play a slot a random number generator (RNG) is creating you a serial number or combination from its database. It has been programmed so that there is a certain ratio of winning and losing combinations, which leads us to the theoretical return to player (RTP) percentage. But that is a topic for another article.
So with every spin the RNG is creating a personal serial number for your round that can be traced back later from the logs. Before it has not been possible for players to gain access to verify their serial numbers also known as seeds. However, now some provably fair casinos have come up with a way to provide their players that seed from the system and with their own or third party tools you are able to verify the outcome.
The actual result is consisting of a random number generator, your seed, the operators seed and hashing. When all of these variables are combined, you can sort of recreate the outcome by using a third party solution or a widget offered by the operator. The hash is encrypted and it is impossible for the casino to try to alter it. When using these provably fair casino tools you can see for yourself how the outcome should have looked and compare it to the result you got from the casinos user interface.
This enables also the operator and gaming providers to check their products so that there has not been any security breach. Of course the largest importance of all of this is the customers' trust. Since everyone can verify their own results, this is definitely helping with building a reputation for brands but also for the whole industry. When provably fair casinos offer this open source algorithm, it also makes their systems harder to be hacked and results are almost impossible to be manipulated. Just lately BGaming studios announced to become the first major gaming provider to enable probaly fair feature in their games.
Why You Should Play at These Sites?
It is a great idea to choose a provably fair casino for your games. This way you'll have another layer of transparency added to the whole process and you can ensure that the games or any other products are not rigged. There are other perks as well that come with these open source sites.
Of course it is a good start to have the ability to run provably fair algorithm checks but there are additional benefits too. As these brands tend to be Bitcoin casinos, you can play and maintain your full anononymity and protect your personal details. You are not required to hand over any contact information rather than your e-mail address and your crypto wallet's address for withdrawals.
This also enables you to get super fast payments since all crypto withdrawals are processed usually immediately and depending on your currency the transaction can be confirmed within minutes after the withdrawal. With cryptos it is also possible to go around any possible country blocks. Gambling with alternative currency has not been deemed either legal nor illegal so at the moment there is nothing stopping you. However, to be sure you should always check the current legislation of your country of residence.
Other Ways for Spotting Fair Casinos
Majority of online casinos have been working tirelessly for reputation and building trust towards igaming entertainment. The largest entities in the business have grown to be publicly listed companies traded around the world so the importance of consumer trust has never been higher.
Provably fair casinos are still only a fraction of all gaming sites operating gambling activities but there are other key indicators for fair and reliable service. Especially top gaming licenses from the UK Gambling Commission or the Maltese Gaming Authority are good signs for trusted online casinos. The bar has been set extremely high for any operator to acquire these licenses and the scrutiny is pedantic.
Also word of mouth offers players great chances to spot any rogue and abusive casinos since the news travel fast these days. It is good to go through reviews, maybe read a few comments and get a bigger picture of how other fellow gamers have experienced a certain brand.