Will Artificial Intelligence Affect Online Casinos?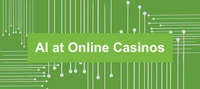 You cannot enter a break room anywhere in the world without hearing a heated discussion about AI. The opportunities with artificial intelligence are almost limitless and it was only a matter of time when online casinos started to see the potential as well. And that brings us to the hot topic of the day: will artificial intelligence revolutionize the iGaming industry?
Safer and More Secure Online Casinos
Safety is the number one priority at online casinos. When you are playing with real money, it is important that everything from your personal information to money transfers are 100% safe and secure. Online casinos are always looking for ways to improve security measures and AI is one way of doing that.
In our opinion, the best use of artificial intelligence is to flag players with potential gambling problems. Based on the infinite amount of data AI can process, it is possible to observe playing patterns to see if there are any drastic changes - and intervene before the situation gets too bad.
Example: Player A has previously been playing once or twice a week with $100-200 at Casino X. But for the past couple of weeks Player A has been gambling every single day and the average daily amounts are over $5,000. AI can flag this behavior and Casino X can check the situation.
Artificial intelligence can also help to automatize payment procedures and account verification. This would mean that no casino employee or third party would have any access to your personal details or communications and all procedures would be handled with end-to-end encryption.
Few things are as closely monitored as real money games. But there is still room for error and glitches or bugs might happen. AI has the capability to analyze game data in a way that humans just can't - and it can immediately notice if something is off or not working properly in a certain game. And this as a result will make gambling even more safer to players.
AI Helps Detect Fraudulent Behavior
It is unfortunate to say that gambling attracts a lot of fraudulent behavior. And in almost all cases, players are caught when trying to cheat at online casinos. And luckily with AI-powered systems, scamming casinos will become virtually impossible.
AI will be able to recognize and stop fraudulent behavior such as card counting, bonus abuse, multiple accounts and even more serious infringements such as identity or credit card theft.
Example: Player A opens an account to a sports betting site and claims a free bet bonus and places a bet stating that Team A will win. Player A then makes another account under Player B's name and places a bet for Team B's victory. AI will be able to detect this fraud and freeze both accounts.
AI will also be a great tool to prevent underage gambling since account verification will become automatize. It will be able to recognize false addresses, fake ID's and credit card thefts and immediately flag suspicious behavior in real time.
With the help of artificial intelligence, online casinos can recognize players who are chasing their IP addresses with VPN to get better bonuses or even evade their own country's/area's gambling laws.
Individualized Promotions
Artificial intelligence will also make it easier for casinos to offer personalized promotions to players. Despite their best efforts, the offers and bonuses are extremely similar and do not necessarily meet the needs of most casino players. But AI has the ability to recognize and analyze players' behavior and based in that information tailor individual bonuses.
Example: Player A has claimed a 100% non sticky bonus up to $200 and 200 free spins - but only used the deposit bonus and has not activated any reload bonuses or other offers. Casino X will understand that Player A does not want a regular bonus or free spins and offers Player A a new personalized non sticky bonus.
This will both make sure the player to receive bonuses he or she wants to use and help the casino to activate dormant customers and improve their customer service. Without the use of AI, analyzing the behaviors of thousands of players would be nearly impossible.
AI-powered systems can also be programmed to automatically give bonuses, free spins, free money or other rewards to active players as an incentive. It can also create individualized VIP benefits to loyal customers.
Games Designed by Artificial Intelligence
It's not just online casinos who will benefit from the use of artificial intelligence. Game studios will also be implementing AI into various aspects of slot design which will result in better and customizable games.
One of the first game providers to utilize artificial intelligence is Endorphina. They launched their first ever AI game, Joker Ra, on April 2023. The slot is still powered by Endorphina but all the design features and promotional materials were designed by artificial intelligence. In the upcoming months we will probably see other providers do the same and in the future even the technical and gamification features of online slots might be done with AI.
Artificial intelligence is also a great tool to help analyze players behavior when it comes to games. Currently casino game lobbies are very general and there really is no way to personalize the gambling experience for individual players. But with AI, the process comes much easier.
Example: Player A has been playing three different high volatility games with over 96,5% RTP. With the help of artificial intelligence, Casino X can now recommend games to player A with those exact specifications.
So before players had to use various categories and filters to find suitable options. But when in an online casino implements AI to their website, they will be able to recommend specific games to players based on their history and preferences.