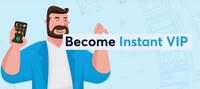 Welcome to the thrilling world of Instant VIP Casinos, where you can take the fast line towards better VIP benefits. But how does this work? Read more to find out how to qualify for an instant VIP status.
What is an Instant VIP Casino?
Instant VIP Casinos refer to online platforms offering immediate access to premium loyalty programs. Traditionally, reaching a VIP status involves time and investment, but Instant VIP Casinos cut through the red tape, allowing players to enjoy elite perks from the get-go.
A handful of online casinos allow players the opportunity to qualify directly as in instant VIP - instead of spending months making deposits, wagering money and collecting VIP points. You do not need to wait around to be invited to join, instead you can gain access simply by following a few steps.
Claiming Instant VIP Status
Attaining Instant VIP status is typically very straightforward, with a simplified and user-friendly process. Here's a step-by-step guide:
Select a casino that provides Instant VIP upgrades.
Complete the registration to create an account.
Verify your email and phone number.
Make the necessary deposit.
Receive confirmation of your VIP status within 24 hours from your personal VIP manager.
The deposit amount varies between different online casinos. It is usually between $1,000 and $2,000. But fear not - the amount is always clearly stated on the VIP page.
Status Match from Other Programs
Players with VIP statuses at other casinos can leverage a Status Match. Contact the customer service of your new casino with proof of your existing VIP status, and enjoy equivalent privileges without any initial deposits at the new platform.
Advantages of VIP Status
Being a VIP comes with numerous unparalleled benefits and privileges such as:
Customized Bonuses: Enjoy a wide range of exclusive bonuses with favorable conditions and higher limits.
Higher and Faster Withdrawals: Experience faster processing times and enjoy higher withdrawal limits as a VIP.
Exclusive Event Invitations: Get invites to VIP-only events, premieres, or international trips, and dine at first-class restaurants.
Complimentary Gifts: Receive occasional gifts like gift cards or champagne from your VIP manager.
Dedicated VIP Support: Benefit from a 24/7 premium customer service, avoiding long waits and queues.
Different VIP Levels within the Same Loyalty Program
Even within the same loyalty program, VIP levels may vary. Higher levels unlock more extravagant rewards and benefits, including increased limits and lavish gifts throughout the year. Regular play and adherence to the casino's financial activity monitoring are crucial to maintaining VIP status.
Conclusion
Instant VIP Casinos offer a gateway to luxury gaming experiences, allowing immediate access to exclusive benefits starting from the initial deposit. They are the golden ticket for those seeking elevated gaming experiences with custom perks and are particularly beneficial for players who find regular limits restrictive. Assess your gaming habits and preferences to determine if Instant VIP Casinos are a good fit.