Christmas Wonderland at Royal Panda: Daily Casino Rewards!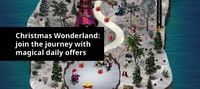 It is beginning to look a lot like Christmas! At least on online casinos that are competing to see how has the best holiday campaigns. One of the top contenders is definitely Royal Panda that has created a Christmas Wonderland on their site filled with daily offers! So if you'd like to enjoy free spins, bonus money and even cold hard cash, make your way to Bambooda!
The snow situation might be a bit fickle at the moment and Winter Wonderland is still waiting to appear. But luckily Royal Panda has found a perfect solution for that - a virtual Christmas Wonderland, built in their own Bambooda Island. The execution has actually been done really well in this campaign (and we just love casinos that really make an effort). You will start your journey on the map with just a little bit of snow but as you advance the snow banks get bigger and even the ocean freezes over.
But obviously this campaign is way more than just visual effects. Each day, the map reveals a new and exciting offer that players can claim. If we look at the previous offers, we see Aloha Christmas free spins, cash drops and deposit bonuses. When we were writing this article, there was a massive $3k Quickspin tournament happening where the winner walked away with $1,000 in his/her/they pocket. We will not go into any specific details because the promotions change every day and we do not want to confuse our dear readers.
How to Claim your Daily Prize:
Hop on to Royal Panda and open an account if you do not have one.
Go to the promotions page where you'll find the Winter Wonderland offer.
Open your daily prize by clicking the spinning icon on the map.
Follow the instructions found in the card and claim your rewards
The campaign is valid until 31st of December.
But this is not all! There is also a delightful side quest happening. As some of you might now, every time you spin at Royal Panda, you collect loyalty points that can be exchanged into different casino rewards. Well in December, these points are worth even more! When you achieve certain milestones, you unlock very exciting treats. With 20,000 points, players can claim $250 in cash, with 50,000 points a whopping $600 cash prize and with 250,000 points an Apple iPhone 12 and Apple Airpods Pro. The final level (400,000 points) gives you an Omega Seamaster Diver Watch! Merry Christmas to you!
Candyland Live Casino Tournament
Just when you thought you'd seen it all with Bambooda Island, here comes Candyland! Royal Panda does not believe in just one Christmas promotion so they have decided to organize a massive $12,000 tournament as well. Each week players have the chance to win their share of $3,000! The tournament happens at Dream Catcher fortune wheel that has undergone a lovely change in honor of Christmas. There are even added gingerbread characters that will award gamers with up to 7x multipliers. Love it!
So how does the tournament work? The race has been divided between four weeks and a new tournament will start every Monday at 00:01 CET. So you will have plenty of times to climb at the top of the leaderboard! Here are the exact tournament dates:
07.12.2020 – 13.12.2020
14.12.2020 – 20.12.2020
21.12.2020 – 27.12.2020
28.12.2020 – 03.01.2021
The goal is to collect as many points as you can - and the amount of points will determine your final result in the leaderboard. Each $1 you win, will count as 1 point. So if you win $20, you'll get 20 points. So the overall concept is very simple. Psst... we also heard from the elves that every player who plays at least 200 rounds with a $5 bet, will get an extra $50 bonus!
Every week the following cash prizes are up for grabs: 1st place: $1,000 / 2nd place: $500 / 3rd place: $300 / 4th place: $250 / 5th-7th place: $200 / 8th place: $150 / 9th-10th place: $100.
Bonuses for New Players
All new Royal Panda players are also eligible to claim the welcome offer that includes both $1,000 worth of bonus money and 10 free spins to Book of Dead. Immediately upon registration, you will also get 149 Loyalty Points to Royal Panda. So if you have not checked this casino out yet, now is a good time!
When you deposit for the first time, Royal Panda will offer you a 100% bonus up to $100 and 10 free spins. The minimum deposit is only $10 but if you use the entire offer, your gaming account balance will increase to $200. For the second deposit, there is an 50% bonus up to $300 waiting and for the third one you can grab a 50% bonus up to $500.
Claim Offer