Nitro Weekend at Lucky Luke Casino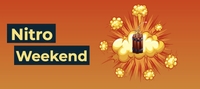 Every weekend is worth celebrating at Lucky Luke Casino! Exciting Nitro Weekend campaign brings you great benefits and rewards for your weekly gaming every end of the week.
Not many can argue against that the weekends are indeed the best part of the week for most of us. Now there is even more reason for that big Friday smile as you can get amazing extra rewards from thrilling new casino Lucky Luke.
This site is walking the footsteps of the legendary comicbook cowboy hero Lucky Luke who wants to call you in as his deputy to catch bandits in the wild west. Enjoy now this beautiful and intriguing new casino experience with great fixed rewards open for all on a regular basis.
How Nitro Weekend Works?
Play during the whole weekend with a 30% matched bonus up to $90. This deal is available every Saturday and Sunday throughout the year and you can claim it as many times as you wish! So there is no cap to this offer meaning you could for example make 12 deposits and get the bonus each and every time. The minimum deposit for this bonus is only $10 and there is a very moderate 30-time wagering requirement for the bonus money before unlocking it for withdrawals.
But wait, there is more! You can combine this deal with the Weekend Blast offering you up to 440 free spins in addition to your bonus money. You'll get these extra free spins each day after your 3rd, 5th and 10th deposits and can score 200 spins per day. As a reminder, this offer is calculated on a daily basis so not all deposits during the weekend are calculated for this reward.
Tar and Feather Top Up Waits for You
Don't let the bandits slip away from your hands but reload your bonus gun every month! Lucky Luke wants to keep his associates happy and ready for battle with a monthly 100% reload bonus up to $300 for your first deposit each month.
You have an amazing chance to boost up your winning chances as you can get as much as $300 in extra bonus money for your adventures. The wagering requirement for this deal is only 30 times the bonus money so you should have a really good chance to convert your reward into real withdrawable cash every month.
Welcome Bonus for New Customers
Now would be a great time to join the sheriff's office and start exploring the riches of the wild west with Lucky Luke Casino. Sign up today and pick your character from 3 different options, each containing a different bonus.
You better choose wisely as every deal is unique in both size and terms. So the first character is obviously Lucky Luke himself and he offers you a 150% bonus up to $300 with a wagering requirement of 30 times the bonus. Your second option would be miss Lucky Lucy and she is providing you with a 200% bonus up to $200 and 45-time wagerint requirement on the bonus. The last but not least are the Lucky Twins who present you a 100% bonus up to $100 but with only a 20 x bonus wagering requirement.
Pick any one of these and you can claim the bonus either up to the stated maximum amount or make a minimum deposit of $10 for each. What's your pick? Would you like to go with the golden mean or maybe try your luck with the highest bonus and treble your money? Or maybe the best approach is to take the Lucky Twins as they offer you the best chance to convert your bonus money into cash with the lowest wagering requirements?
Claim Offer