Spring Grand Festival Now Live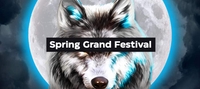 What is spring without a proper festival, eh? You can now join not just any festival but a Spring Grand Festival at Skycrown Casino.
The days are getting lighter and sunnier, birds are chirping happily and summer is clearly coming. What would be a more suitable idea to celebrate all of this than organize a good old festival? Skycrown has done just that announcing an exciting campaign with gaming provider Spinomenal to really get everyone in to the festive mood.
This time players can claim their shares of a nice and round total prize pool of $84,000. This sum is about to be splashed between all participants during three phases in this tournament. Every round has a differnet prize table and the amounts will be raised towards the end of the campaign. But let's talk a bit more in detail what's going on with this promotion.
How to Join Spring Grand Festival?
So firstly you'd need an account at the casino. When you open an account, you can also claim the juicy welcome bonus package along the way. After that you are asked to play participating slots from Spinomenal's collection and start putting up points on the the leaderboard. The first round starts on the 30th of March and the third and final round ends on the 2nd of May. Here are the exact promotional dates:
Round 1: Between the 30th of March and the 10th of April
Round 2: Between the 11th of April and the 19th of April
Round 3: Between the 20th of April and the 2nd of May
Every week you will face a new challenge in the tournament. First round is based wins. Every spin that you win something will give you one (1) point to the scoreboard. On the second round the points are gained for every 10 spins made during the campaign dates. And lastly, the third round will be based on winning multipliers that are summed up until the end of the campaign.
Just keep in mind that you must keep your minimum bet to $0.20 or higher when playing. Other than that, you are just required to play the following Spinomenal slots:
Round 1: Book of Demi Gods II, Book of Tribes, Lucky Jack – Lost Jungle, Majestic King, Mammoth Rampage, Wolf Fang – Winter Storm
Round 2: Book of Demi Gods II, Book of Rebirth, Egyptian Rebirth II, Majestick King, Story of Egypt, Times of Egypt – Pharaoh's Reign
Round 3: Blue Panther, Book of Demi Gods II, Book of Rampage, Lucky Jack – Tut's Treasure, Majestic King, Savanah's Queen
Prize Pool
At the end of each round the points are calculated and the top 100 players will be sharing the cash prize pool. The only difference is that the prize pool will be doubled for round 3. In total there is $84,000 to be shared among participants during the 3 rounds of fun and games.
The winner in round 1 and 2 will get a nice chunk of the total prize. That is $2,380 and the second player is receiving $2,100. For the participant in the third place the prize will be $1,540 and the fourth in total will go home with $1,120 in his or her pocket. After that the rewards are slowly downgrading until the last 50 players who will get $98 each.
During the final and third round all prizes are far more better:
$4,900
$3,780
$2,800
$2,100
$1,820
Even the final 50 players will get $210 each from the last round so if you are thinking about any tactics, it might be a good idea to invest in the 3rd round of play!
Brand New Bonus Awaits
The best part about new casinos is of course the welcome bonus they introduce. And it has been a while since we've seen a bonus package this big! Overall there are $3,000 deposit bonuses waiting to be taken - and of course 350 free spins to spice things up. The spins are given to some of the most popular Microgaming slots - and to some surprising appearances.
The first deposit comes with a 100% bonus up to $300 and 100 free spins to Wacky Panda. The minimum deposit for this offer is $30 and you must use a bonus code SKY100 to activate the offer. For the second deposit, you can claim a 75% bonus up to $500 and 75 spins to Thunderstruck II with bonus code SKY5.
The journey continues with a 75% bonus up to $700 and 50 free spins to Immortal Romance (code: SKY7). For the fourth deposit, SkyCrown has created a 50% bonus up to $1,000 that comes with 50 free spins to 9 Masks of Fire. Again you need a bonus code to take advantage of the offer and this time it's SKY10. And last but not least, there is a 75% bonus up to $500 and 75 spins to Amazing Link Zeus just waiting to be taken.
In all of the offers mentioned above have the following wagering requirements: 40x the bonus and winnings from free spins.
Claim Offer