Weekly Cash Explosions: Win a Share of $25k at Nitro Casino!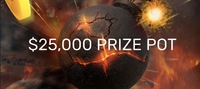 Summer is officially here - and while some online casinos are already in the holiday spirit, Nitro Casino is still working tirelessly to bring the best possible campaigns to Canadian players. And starting June 1st, they are introducing weekly cash explosions with a massive $25,000 prize pool that last all through summer.
So the first tournament kicks in tomorrow and weekly cash prizes are given all the way to August. So this summer it is truly raining cash and you can be one of the lucky winners. If you want to take part in one of the cash explosions (or all of them), you only need to follow these simple instructions:
Go to Nitro Casino and open an account if you do not have one.
Play the weekly campaign slot with a minimum bet of $0,40.
> The game changes every week so make sure you check it on the campaign page.
> During the first week (1.-6.6) the slot is Greek Gods.
Try to grab the highest possible win on one round and claim to the tip of the leaderboard.
> Points are calculated by adjusting the win amount to the bet amount.
The campaign is always valid from Monday at 00:00 to Sunday at 23:59.
There are a total of 12 tournament weeks in total.
Each week lucky winner will be able to claim the following prizes: 1st: $750 / 2nd: $500 / 3rd: $300 / 4th: $200 / 5th: $100 / 6-10th: $50.
Daily offers at Nitro Casino
At Nitro Casino, players will be rewarded with daily prizes. So in addition to Nitro speed services, you will also be able to enjoy bonuses, free spins and even no deposit bonuses. This means that you will never get bored because the next great offer is just around the corner. And we do mean this literally since Nitro Casino will award you with a new offer every day.
The only thing you need to do, is sign in to your account and make a deposit. After that you can play any games you want and enjoy what the site has the offer. And by the time you open your eyes the next morning, your email will have a special offer from Nitro Casino just waiting to be opened. You can repeat this course of events as often as you like!
Take Part in Other Casinos as Well
The same exciting tournament will also take place on other Betpoint Group Ltd casinos: Just Spin and 21.com. These three sites often have similar campaigns available at the same time so you can choose which brand you like the best. So again the basic principle of the cash explosions is still the same - all you need to do is spin the campaign slot and try to achieve the highest possible win in a single round. The same applies to prizes and the best player of the week will claim $750 no matter which site the result came from.
The biggest difference is of in the welcome package. When Nitro Casino pampers players with daily offers the other two sites rely on a traditional welcome bonus. The biggest one comes from 21.com where new players are rewarded with $1,000 bonuses and 1000 free spins to Vampires vs Wolves. When you open an account, you will first get 100 free spins no deposit! And after you make the first deposit, the rest 900 spins are given in batches of 10 in addition to a 100% bonus up to $100.
Just Spin Casino is also throwing its hat in the ring with a massive welcome offer. Again, you will be able to enjoy 100 no deposit free spins but in this case they are given to Fire Joker slot. After that, you'll have $500 worth of deposit bonuses and 500 free spins more up for grabs!
Claim Offer