Xmas Lotto – Win a Tesla SUV!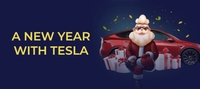 What would be a better Christmas gift for yourself than a shiny new Tesla Model Y SUV? This car can be yours if you just participate in a lottery.
All you want for Christmas is going to be a Tesla after you read more of this super campaign brought to you by Pino Casino. They are organizing the lottery of all lotteries this Holiday Season by throwing a Tesla Model Y on to the table. Start collecting raffle tickets and this beautiful peace of American engineering can be yours.
Tickets to the lottery can be collected between the 7th of December until the 7th of January. During this time you can pile up tickets to take part in this raffle where one lucky player will become the owner of a Tesla SUV. This prize is full of performance, quality, safety and modern design making it one of the best electric cars in the world.
The marvelous Tesla Model Y will accelerate you from 0 to 60 mph in just 3.7 seconds and their new long range performance battery will give you a fairly decent 300-mile range with just one charge. There are seats for up to 7 people and the trunk can take up to 68 cubic feet. 4WD, TCR and etc. will make this SUV a joy to drive in whatever conditions and the two independent electric power units generate 450 bhp.
How to Participate
As the name suggests, it is a lotto, i.e. a lottery where one winner will be drawn among the all tickets collected. You can pick up your lottery tickets every time you deposit during the campaign period. That's pretty much it as the only other requirement is that you need to keep your account active and not close it, hibernate it or block communications or set self-restrictions during the campaign.
Of course, the more raffle tickets you'll collect, the better your chances will be in the raffle taking place within the first 72 hours after the promotion has ended. Here's how you generate tickets:
Deposit $70 and get 1 ticket
Deposit $130 and get 2 tickets
Deposit $290 and get 5 tickets
Deposit $510 and get 10 tickets
Deposit $650 and get 15 tickets
Remember to keep your contact details up to date and also make sure that you have enabled communications from your account's settings. It would be a real bugger to miss this prize due to expired contact details. The winner will be contacted personally after the result is drawn.
Merry Prize Month with $500,000 in Prize Pool
Check out also one of the top tournaments running during the festive season at Pino Casino. They are giving you a chance to enter a network promotion in cooperation with gaming provider Playson with $500,000 in the cash prize pool. There are 5 phases into the tournament and the second part is just up and running until the 20th of December.
Play interesting games from the Playson portfolio and earn your cut from the $80,000 prize money splashed between the top 100 players in this phase. Even if you are not lucky in the main tournament, you can still win some nice cash prizes as the tournament has a separate randomly popping Cash Blast drop scheme. Any spin any player can win extra cash from an additional $28,500 drop wallet.
Welcome Offer from Pino
Start your journey at Pino Casino with a generous $750 + 150 free spin welcome bonus bundle. You can benefit from 100% matched first deposit and if you deposit $30 or more, additional 150 free spins are added to your account. What a nice way to begin possibly something beautiful!
Claim Offer