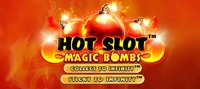 It is time for another comeback when Hot Slot™ series returns with Magic Bombs edition. In this review we will cover all main areas, important facts and our own experience and thoughts of the slot.
Launching on the 11th of October 2022, Hot Slot™: Magic Bombs is the newest sequel to Wazdan's Hot Slot™ saga. Very traditional looking game may look simple to you at first sight but there is so much going on silently in the background. In-game jackpots, fun bonus game and many trademark special features are making this more than your average slot.
How it Works?
When having your first look, it is clear that it looks like a classic videoslot. There are 5 rolling reels with 10 paylines and all wins are formed from right to left. In this sense there is nothing special but the way additional features affect the gameplay is quite exciting actually. But we'll discuss this more in-detail in the lower section covering the special features.
What the absolutely loved was the ability to customize the experience with multiple choices in settings. For example players have the chance to adjust the game speed from slow to fast and to ultra fast. You can take off the background music and sound effect or both at the same time. Of course also the bet size can be altered easily but the top finding was the ability to adjust the Hot Slot™: Magic Bombs's volatility to your likening.
1 chilli – small volatility
2 chillies – neutral volatility
3 chillies – high volatility
Symbols in this game are reflecting the classical style. The basic icons include golden bells, crowns, 7s and several fruits like watermelon, strawberry and grapes. Scatters are flaming bombs and infinity free spins are known for a golden cannon icon. It was actually nice to have the traditional casino videoslot style incorporated in Hot Slot™: Mega Bomb but still have the latest special effects also present.
The minimum bet size has been set to $0.10 or equivalent in your preferred currency. The maximum bet on the other hand is as large as $100 per spin so this game suits very well also our high roller readers. The maximum win per spin is 6,000x your bet size. So in theory you could win up to $600,000 on just one single spin. You can also try your luck in an additional gambling mode. Guess right the color in the card and you can double your money up to 4 times in a row.
Hot Slot™: Magic Bombs RTP% (Return-to-Player)
As in every fair and licensed online casino game, also this slot has a verified return-to-player percentage. In this case the Hot Slot™: Magic Bombs has a 96.17% RTP integrated into the product's random number generator motor. The volatility can be managed by the player from small and neutral to high. This doesn't affect the RTP but has a radical impact on the freqeuency and size of the wins.
Special Features
What makes this game special? Of course world class special features! Wazdan has developed several Infinity effects and in this very slot we can enjoy Collect to Infinity™ and Sticky to Infinity™ trademark attributes. The firstly mentioned is a free spin function described with a golden cannon. Players can collect free spins towards the bonus game during every single round until the Scatters land to the reels. In theory, you can stack an infinite amount of FS as it will stick until the bonus game is triggered.
Another sticky element is the Sticky to Infinity Jackpot symbol. The mechanics are similar to the free spins as every time you land this dynamite jackpot symbol on the reels, it will stick until the bonus game starts. So you might ask next how the bonus game in Hot Slot™: Magic Bombs is triggered? You'd need at least 3 Scatters to launch this feature. 3 symbols will give you 10 free spins, 4 symbols give you 20 FS and 5 Scatters get you 30 free spins on top of any Collect to Infinity spins generated.
After the bonus round finishes (you run out of free spins), those sticky jackpot symbols come into play. One by one they start rolling and will reveal you one of the available instant jackpot wins. Every Sticky to Infinity can win you any of the following prizes:
Mini: 20x your bet
Minor: 50x your bet
Major 150x your bet
Grand: 1,000x your bet
For example, if you land 4 jackpot symbols until the bonus game ends, you will win 4 jackpot prizes. Even though it would be quite improbable, in theory you could win several Grand Jackpots during one single bonus game feature.
Verdict
What we really liked was the great opportunities to customize the gameplay. Players can adjust their bet size, speed of the play and even the volatility. There's even a possibility to toggle on a special Energy Saving Mode if you are worried about your energy bill or for the environment. Another area where Hot Slot™: Magic Bombs stands from the crowd is the special features. Wazdan has invested heavily in developing unique solutions and we think they have succeeded big time.
Something to improve in the future could be the level of graphics and visuals. Even though this game does look good in a traditional way, for example animations and other elements could be elevated to extraordinary from ordinary. However, this is a rather small finding in a grand package offering also high maximum win and exciting features. PS. if you are tired of waiting for bonus game, there is a bonus buy feature available too!