Five Must-Try Crash Games from OnlyPlay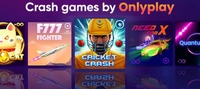 Crash games are one of the hottest trends of 2023 and most online casinos have already added these particular games into their game library. And when it comes to crash games - no one does it better than Onlyplay. Their portfolio currently consist of five different products that are based on crash mechanics.
These five crash games are all unique in their own way and definitely worth checking out. Onlyplay has managed to combine the simplicity of crash games with various thrilling features in an elegant and entertaining way. So if you are looking for crash games, we recommend Onlyplay.
F777 Fighter Among the Most Popular Games
F777 Fighter is Onlyplay's best-performing crash game, a loved hit all over the world. Through its simple design and realistic details, players can experience the real fighter's flight conditions while immersing themselves in military-themed entertainment.
F777 Fighter was the first crash game to feature a both bonus game and jackpot game - making it a revolutionary product with a cool and inspiring military theme.
During the gameplay, the F777 Fighter aircraft encounters refueling planes that reward bonuses and increase multipliers by 20%/40%/60%. And to make possible wins even larger, the game comes with a progressive jackpot in the form of an enemy plane, which can fall if the multiplier exceeds 3.00.
Limbo Cat - Onlyplay's First Crash Game
Onlyplay first tested out crash games with the launch of Limbo Cat. Do you like cute cats? What about games with tanks? Well this one has both! Limbo Cat is a colorful and dynamic game where you have the full control. When you run into a box that contains a bonus, the multiplier increases by 1.2x. But we advice you to be careful as the box might also have a bomb inside!
In addition, both F777 Fighter and Limbo Cat have the option of placing 2 unrelated bets simultaneously. This increases your chances of winning even more. By placing bets in advance, you have the possibility of automatically starting rounds and receiving results. The cat will ride on the tank and the plane will fly for as long as you want until you hit the bomb.
Intriguing Infinity Play Mechanic
The next two Onlyplay crash games come with the Infinity Play mechanic. The game studio has developed a completely new approach when it comes to the mechanic of crashes. Instead of having to wait for a new session once the old one ends, you can continue playing - thanks to the Infinity Play mechanic that can only be found in Onlyplay games.
The first game with this particular features was Quantum X that was presented at SBC Barcelona in 2022. Once you have placed a bet, the game begins and the player's avatar lands on one of the infinite quatrain strings. The game features a futuristic design that takes you all the way up to space. In order to win prizes, players must jump from one string to another and catch the photons moving along them. But tread carefully as some photons are deceptive and might actually be bombs!
If space is not your thing, Onlyplay has another great Infinity Play game that is suitable for racing fans! Need for X puts you in a racing car on a road with two different lanes with bonuses boxes. By changing lanes, the car will be able to catch bonuses or avoid boxes in which there may be a disguised bomb that will unexpectedly explode your car.
Quantum X and Need for X have a clear introduction with a detailed guide explaining how the mechanics work. Both crash games also come with a socialization function that allows players to personalize avatars and play with friends.
Cricket Crash Launched in April
The latest crash game to join this impressive portfolio is Cricket Crash. As the name suggests, this game combines both cricket and crashes! The sport-themed slot has a stylish game design and bright animations and will definitely captivate even players who do not normally like cricket.
The game starts when the player throws the ball. When the ball is flying above the field, to goes through various portals that either increase the win multiplier or feature a hidden bomb!
In Limbo Cat, F777 Fighter and Cricket Crash, it is possible to win a progressive that both once the multiplier in the game exceeds 3.00. Players can also place two bets simultaneously and in advance.
Onlyplay's crash games also allow players to check both their own and other players' results in recent rounds. You will also find an included emoji panel where you can share our own emotions. There is also an added panel for multiplier results.